IN ENGLISH BELOW
LOKALPRODUCERAD GETOST
& MATHANTVERK
FRÅN SLÄNSMÅLA, BLEKINGE
Framtida Bruk Gårdsmejeri startades 2018 i nordvästra Blekinge. På gården finns 40 mjölkgetter av svensk lantras.
Vi som driver Framtida Bruk heter Nils och Claire Sjöström. Våren 2016 flyttade vi från Stockholm till Slänsmåla och har sedan dess byggt upp verksamheten. Vi arbetar även med IT till vardags. I september 2020 utökade vi teamet med vår första anställda, Anna. Hon jobbar med getterna, ystar ost och arbetar även med försäljning och marknadsföring.
I vårt lilla mejeri ystar vi olika sorters getost, alltifrån grill- och stekbar Eldost® till ädla mögelostar. Vi gör även småländsk ostkaka på getost. För att se var du kan köpa våra produkter, klicka här.
Följ vårt liv på gården på våra sociala medier. Där får du träffa Maja, Hawaii och resten av våra charmiga getter!
Facebook: FramtidaBruk
Instagram: FramtidaBruk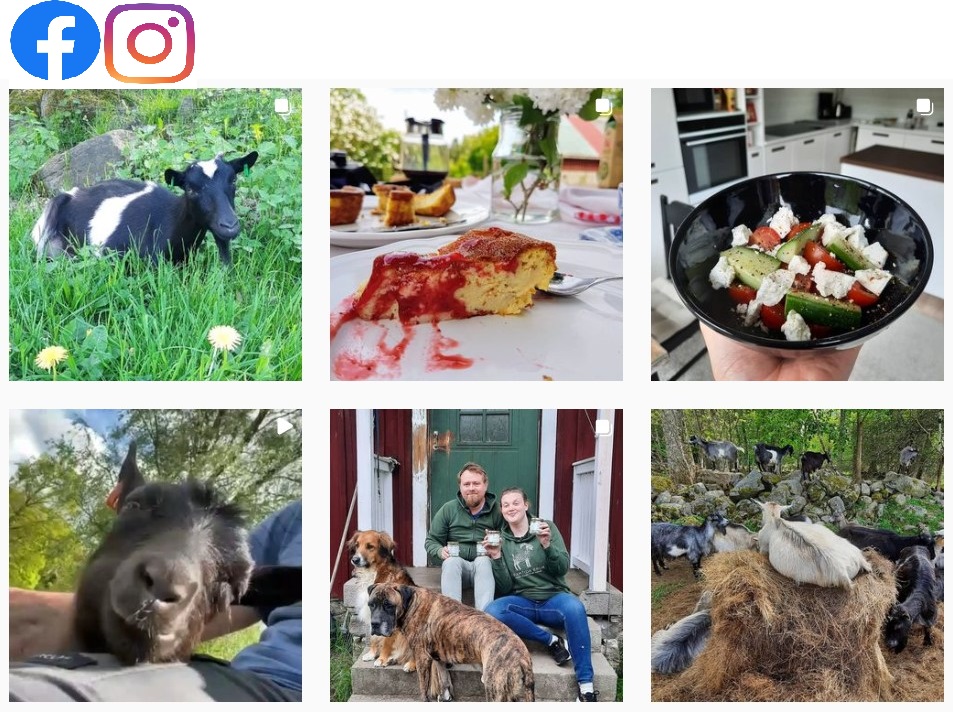 ---
LOCALLY PRODUCED GOAT CHEESE
& ARTISAN FOOD
FROM SLÄNSMÅLA, BLEKINGE
Framtida Bruk is a newly started dairy farm in Blekinge, south of Sweden. We have 40 milking goats of Swedish native breed.
We who run Framtida Bruk are Nils and Claire Sjöström. In the spring of 2016 we moved from Stockholm to Slänsmåla and have since built up the business. We also work with IT. In September of 2020 we expanded the team with our first employee, Anna. She works with the goats, the cheese, as well as sales and marketing.
In our dairy that we have created from scratch, we produce different kinds of goat cheese, ranging from the popular grill cheese Eldost®, to mouldy cheeses, both white and blue. We also make classic Swedish cheese cake. Click here to see where you can buy our cheese.
Follow our life on the farm on our social media. You'll meet Maja, Hawaii and the rest of our lovely (and a wee bit crazy) goats!
Facebook: FramtidaBruk
Instagram: FramtidaBruk
Hälsningar/Best regards,
Claire och Nils Sjöström